To receive an email when a page changes, check the "Notify me" box on the upper-right of each page.
For example, on this page, use the box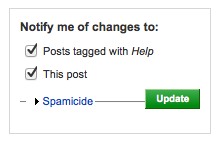 Be sure to click the green and white Update button after you make selections.
You can manage your subscriptions under My account > Notifications.  Use the Subscriptions sub-tab to:
Activate, deactivate or delete a subscription

Set the delivery method, mail or web

Change the number of times you will receive updates

by changing Default send interval from Immediately to, e.g., Twice a day

Use the Tags sub-tab to be notified of changes to a whole section.
You will not receive a notification of your own changes.
Adminstrators
To reset the user and resend the first-time login email do the following steps:
1) set the user's status to Blocked.
2) click SAVE
3) set the user's status to Active.
4) click SAVE