RAOBCORE/RICH Visualization
RAOBCORE/RICH Visualization
Site under maintenance
The Reanalysis site is currently receiving required maintenance. You may still access all content, however, posting comments and editing pages has been disabled to ensure there is not content lost during this period. 
Last edited by
michael.bosilovich
on Tue, 02/19/2013 - 13:08
RAOBCORE and RICH
online Viewers now available!
RAOBCORE => RAdiosone OBservation COrrection using REanalyses
RICH => Radiosonde Innovation Composite Homogenization
New visualization utility for RAOBCORE and RICH adjusted global radiosonde dataset now available:
RAOBCORE/RICH
Version 1.5.1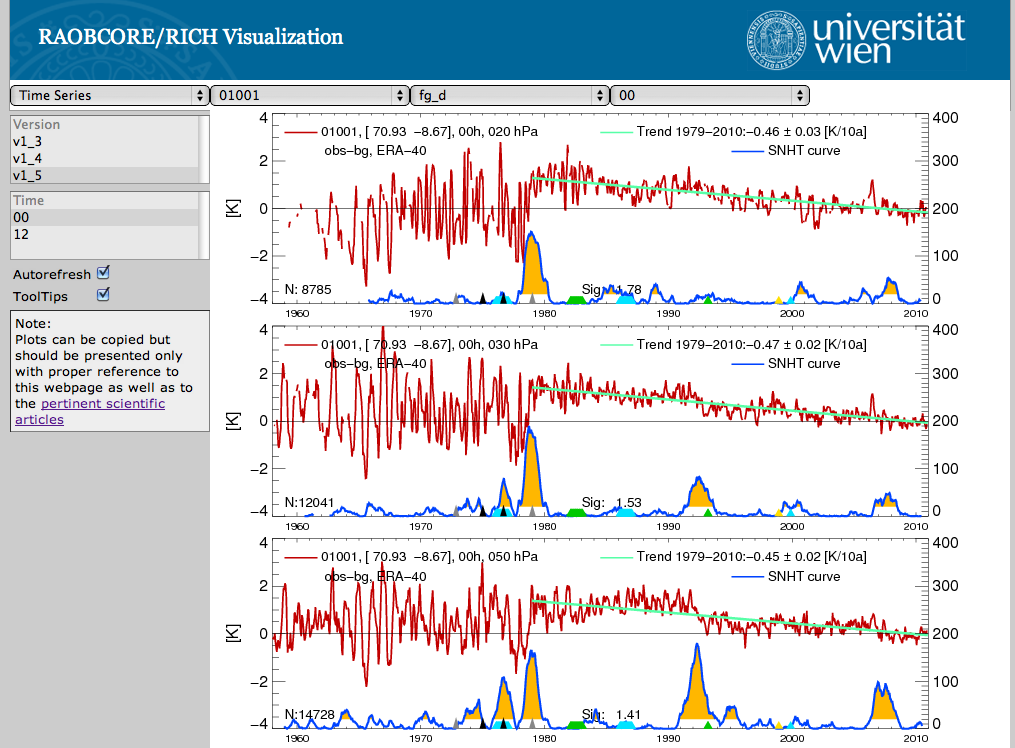 http://srvx7.img.univie.ac.at/~leo/richvis/newindex.html
New visualization utility for RAOBCORE 2.0 global radiosonde dataset now available.
Adjustments are not yet provided.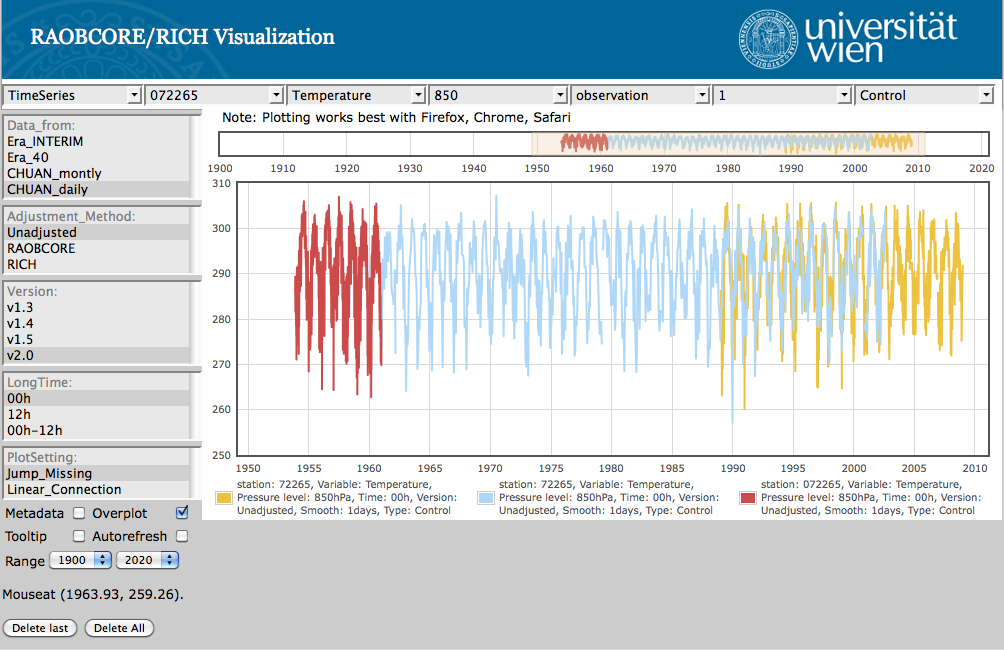 http://srvx7.img.univie.ac.at/~lorenzo/DEVL_rrvis_2.0/html/
Notes: Viewer RAOBCORE 2.0
Station : WMO radiosonde station number (not all the stations ara available for all the archives)
Varibale;
Pressure level [hPa];
Type: observation, biascorrection (if available), FirstGuess departures (if available) and Analysis departures ( if available);
Smooth: running mean over the time serie;
Experiment: only Control is available;
Data from: in this menu are shown all the possible soure of data we are using:
Adjustment_Method: only Unadjusted is now available;
Version: only v2.0 is available;
Long_Time:

00h: data at Midnight;
12h: data at Noon;
00h - 12h: difference between Midnight and Noon;

PlotSetting:

Jump_Missing: if there is a missind value, nothing is plotted;
Linear_Connection: if there is a missing value, a linear connection between the last available and the new available will be plotted;

Metadata: shows (if available) the metadata for the selected station;
Overplot: allows plotting many time series on the same frame;
Tooltip: gives hints about the different menus;
Autorefresh: at each selection it tries to plot the current setting;
Range: scaled for the time axis;
Delete Last: deletes the last plot form the frame;
Delete All : deletes all the plots from the frame;
In order to zoom in: select with a mouse and drag the area that you would like to inspect. It will be magnified in the main frame.
Suggested stations for a easy start :
Station: 010393, Merged archive, presure 1000 or 850 hPa -> long time series back to 1905
Station: 004018, Merged archive, pressure 850 hPa -> continue time serie back to 1946;
Station: 016716, Merged archive, pressure 200 hPa, Type: Observations and Analysis depertures -> big shift (better visible with smooth bigger than 100);
Station: 016716, Merged archive, pressure 200 hPa, Type: Observations and Analysis depertures -> big shift (better visible with smooth bigger than 100)